Welcome to MailsSoftware MBOX to PST Converter Tool. Now you will get the complete software's processing guide from here.
Step to Follow:-
Steps:1 To start the conversion process, download and install the MailsSoftware Thunderbird to Outlook Converter tool and activate the full licensed version, if you go with DEMO version (Register Demo), then you will get limited functions such as it will show the only preview of Thunderbird MBOX data and export only first 20 items from per folder of mailbox.
Steps:2 Go to the "Add File" option to load Thunderbird data file
Steps:3 You will get the window to Auto Load or Browse the MBOX file with 2 options
1- Mozilla Thunderbird/Postbox
2- Add MBOX Files (Browse Folder)
Steps:4 For Mozilla Thunderbird/Postbox: The software provides two types of facilities to upload Thunderbird profile data -
1- If you know the location of Thunderbird profile data or need to export selected folders then select "
Browse
" option and load the TB MBOX file and Click on
Next
button.
2- If you don't know the location or want to complete Thunderbird data migration then select "
Auto Load
" option and Click on
Next
button.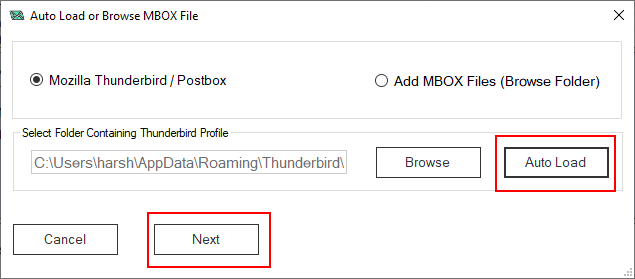 Steps:5 For Add MBOX Files (Browse Folder) – If you have only MBOX files at your desired location of local machine then select this option. Click on Browse button -

~ Go to MBOX file location and directly load the MBOX folder
~ After successfully loading of MBOX file, click on
NEXT
button
Steps:6 The software provides the complete MBOX file preview. You can view and read the MBOX mailbox data without using Mozilla Thunderbird.


Steps:7 The software provides 3 more option as "Export", "Save Selected", and "Search Mail(s)" option. Let's start with Export option -

Export: Click on Export option to convert Thunderbird MBOX data to PST, RTF, MSG, HTML, EML, and MHTML file format. To export Thunderbird mailbox data, select mailbox folder from the left panel of window and select any one file format to export data -


Steps:8 Export Thunderbird to PST: If you want to convert Mozilla Thunderbird MBOX data to Outlook PST format then select PST option. The software provides 2 PST conversion option for saving multiple MBOX profile data in single PST with "Combine All account to single PST" and to store MBOX profiles in separate PST then enable the "Export Each Account to separate PSTs".


~ The user can apply the "
Date Filter
" option to get the MBOX data from particular date in PST mailbox. Now provide the location to save Thunderbird mailbox to Outlook PST format in local machine, and click on Export button.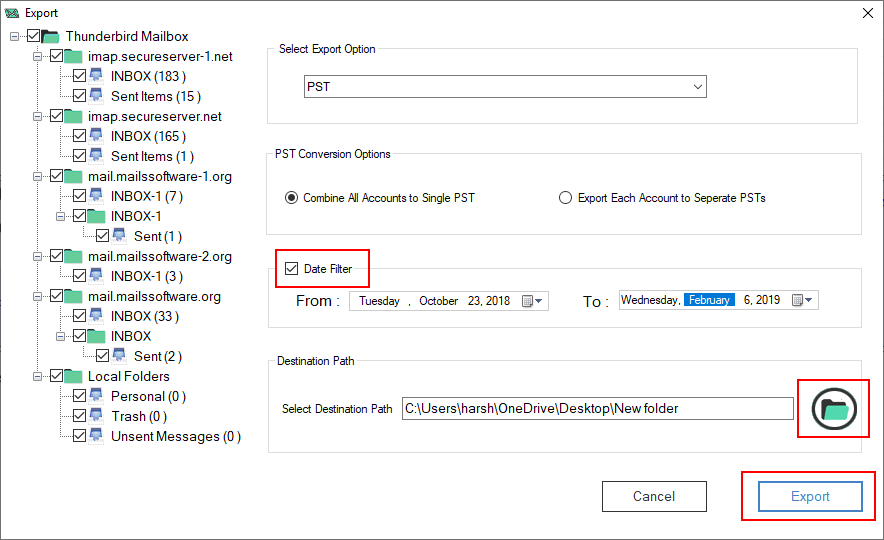 Steps:9 Export Thunderbird MBOX to RTF, MSG, EML, HTML, and MHTML: The Thunderbird to PST converter software allows to migrate MBOX data to various file formats. With this option, the user can easily export Mozilla TB mailbox to above given file formats. Select anyone option from here: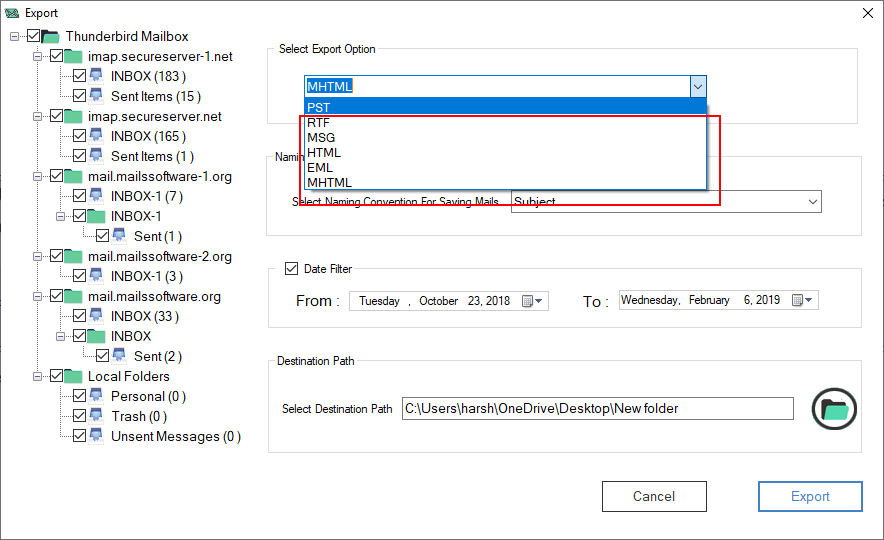 ~ The tool allows
Naming Convention
for saving mails in
Subject+Date, From+Subject+Date, Date+From+Subject, Autoincrement
format. Now you can set date range for mailbox data and provide a destination path to store converted MBOX data in local machine – Click on
Export
button -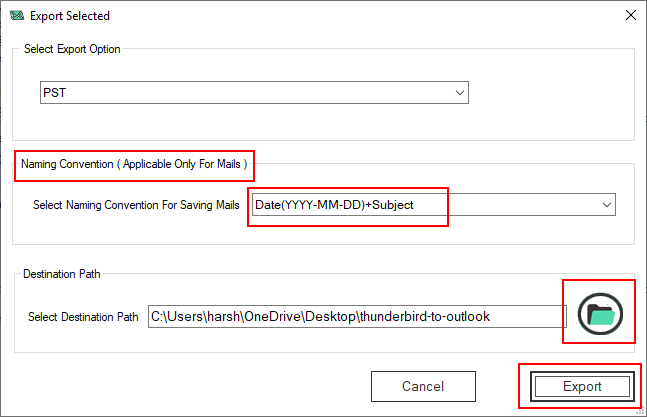 Steps:10 Mozilla Thunderbird to Outlook PST or any other format process will begin automatically and you will get confirmation message of successful conversion.

Steps:11 If you want to export few or desired mails then select the mails from preview of MBOX mailbox and click on "Save Selected" option in menu bar -


Steps:12 Select any file format to export selected emails -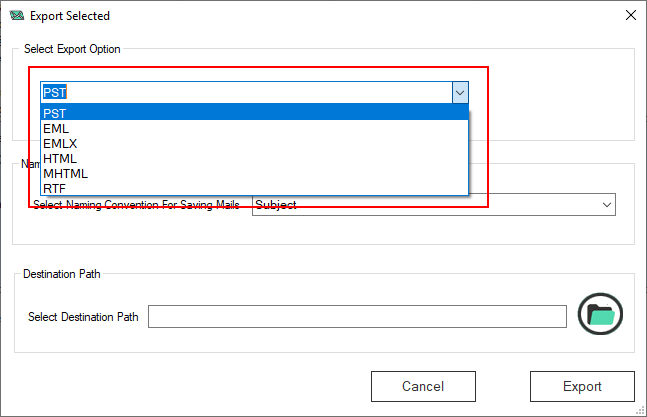 ~ To save opted mails, you can set "
Naming Convention
". Now provide the local path to store mails -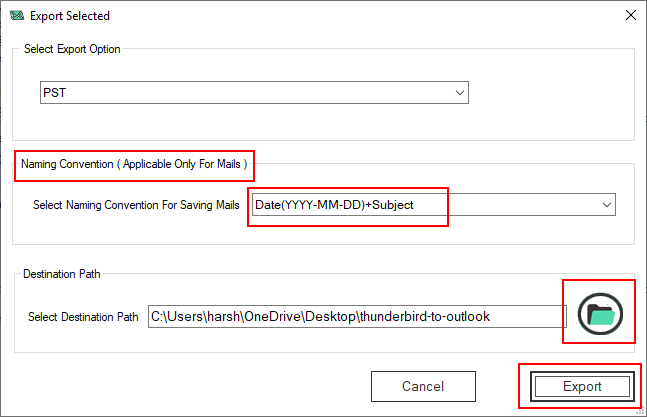 ~ You will get the export processing window and after completing the procedure, the confirmation message will present the screen.
Steps:13 If you need to search mails of MBOX file then click on "Search Mail (s)".



~ The software presents the Search screen to find emails from uploaded MBOX files. Select the MBOX profile from left panel >> Now provide an option to search mails from "To", "From", "Subject", "Received Before", "Received After", or "Had Attachments" >> Click on "Search" button. After completing the searching mails, click on Export Button -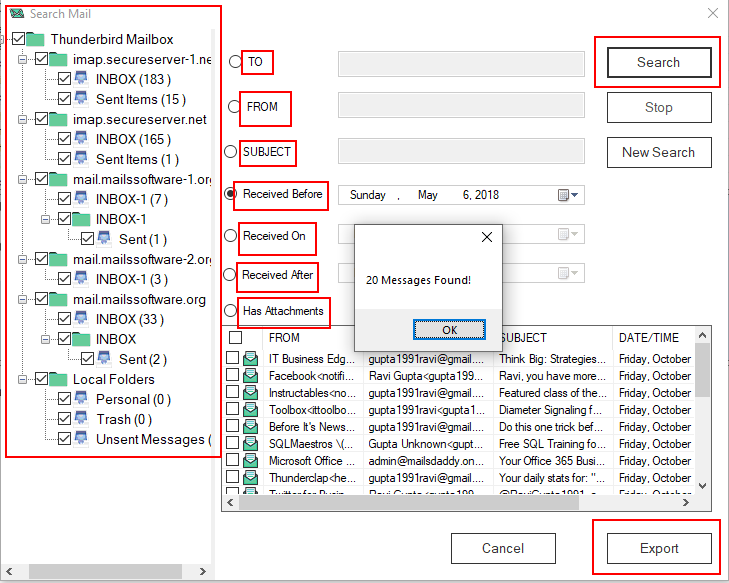 ~ Now follow the step for stating the process.
Steps:14 If you face any type of problem or need help to operate the MailsSoftware Thunderbird to Outlook converter then click on "Help" option and feel free to contact any time –